See blog entry from 7/27/10.
The legwarmers concert was last night....finally....and it was fabulous.
I ultimately chose to go with an 80s aerobics instructor/Olivia Newton John (Lets Get Physical) look. Ironically everything I wore I already had in my closet, I just had to combine it in the right way.
The end result.....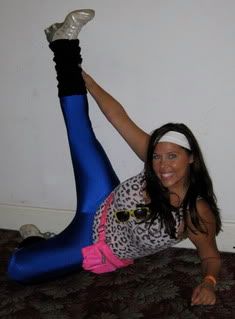 headband [CVS], Yellow wayfarer sunglasses [Urban Outfitters], leopard tank top [H&M], Electric blue leggings [Forever 21], legwarmers [H&M], Crosstrainers: Nike Shocks[Lady foot locker]