Never have I ever made lamb. But a recipe for moroccan lamb stew that I ripped out of a magazine months and months ago has been taunting me. "Make me, make me! Even though I look oh so challenging! Test your culinary skills!" And so I did...and it was delicious. My only tweak to this delicious recipe is that I would add a bit more salt during the cooking process and maybe substitute the red pepper for carrot, which I like better.
Ingredients:
2 tbsp vegetable oil
3 lb boneless leg of lamb, cubed
Salt and pepper to taste
1 large onion chopped
1 red pepper, seeded and chopped
1 whole leek, cleaned and chopped
2 cloves garlic, minced
1 1/2 tsp ground cinnamon
1 1/2 tsp ground cumin
1 tsp ground ginger
3/4 cup pitted kalamata olives
1/2 cup chopped, dried dates
1 can (14 oz) stewed tomatoes
4 cups beef broth
1/3 cup chopped parsley
1 box cous cous
1/2 cup sliced almonds, toasted
1. In a dutch oven or large pot, heat 1 tbsp oil over medium-high heat
2. Season lamb cubes with salt and pepper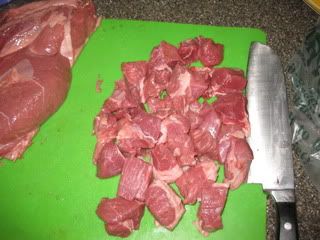 3. In batches brown the lamb cubes on all sides and transfer to a bowl with a slotted spoon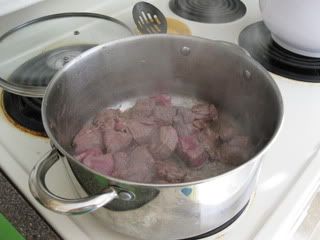 4. Add the remaining teaspoon of oil to the pot and saute the onion, peppers, leeks and garlic for 4-5 minutes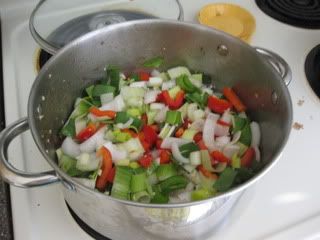 5. Stir in cinnamon, cumin and ginger; continue cooking approximately 3-4 minutes, until vegetables are tender
6. Put the lamb back into the pot
7. Stir in the rest of the ingredients and bring to a boil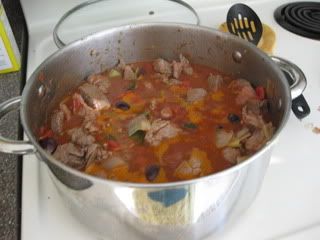 8. Reduce heat and simmer for 1 hour or until lamb is tender.
9. Stir in parsley.
10. Prepare couscous according to the directions on the box but with beef broth instead of water.
12. Sprinkle the almonds on top of couscous and serve next to the stew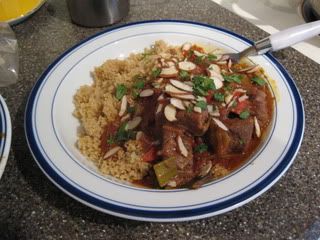 tip- if your stew broth isn't thick enough, ladel some broth into a seperate bowl and whisk in two tbsp of flour. Then stir that thickened broth back into the soup.