My neighbor asked me to accompany him to a fabulous outlet mall in Woodbridge, VA yesterday called
Potomac Mills
. I decided to go, against my better judgement (after looking at the balance of my bank account), because I needed a couple of things for my upcoming trip to Costa Rica. Overall I got out without doing too much damage. I purchased two pairs of capris and a raincoat for Costa Rica. And I managed to snag one amazing piece from the Ralph Lauren Polo outlet.
I think its ok when you find a unique piece that you love to splurge a bit. This amazing Ralph Lauren wool houndstooth cape was purchased for $136.00 and I can't wait to see how much use I will get out of it this fall.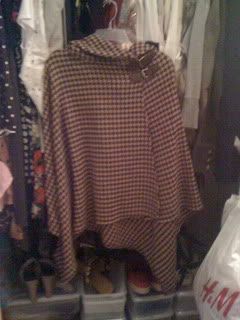 And of course its important to have a bit of fun when shopping....