While reading my favorite magazine (Lucky of course, the strictly shopping magazine) I came across a piece about an I phone app that a staffer had built. The app, called "Style book" allows you to photograph your clothes, catalog them by type (top, bottom, outerwear, sweater, skirt, etc), and make outfits from them. Not only can you put together looks from the pictures of your clothes but you can add them into a calendar and simply go into your i phone for your the outfit you are to wear that day every morning!
AMAZING! And for $3.99 its a must for any fashionista with an iphone.
I have already uploaded about 40 clothing items to my style book app. Can't wait to start using it!
example of an outfit made with stylebook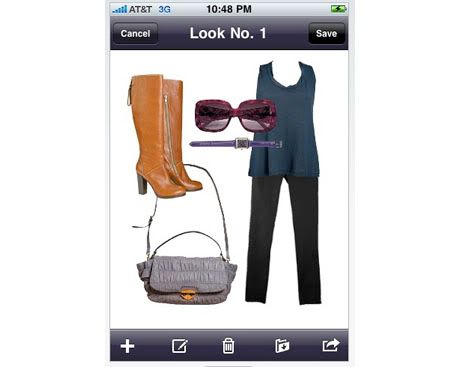 Lucky Staffer Builds An App:luckymag.com
Tip: if you do choose to get this app i would recommend taking photos of your clothes on a solid colored back round to make them easier to edit