A few years ago I spent some time with my family in Savannah, Georgia. My cousin's husband has family in the area. We were invited to his parents house for dinner one evening and the dish that was served was what is known is Southern parts as a
low country boil
. The dish was a delicious mix of seafood, corn, potatoes and seasonings that were boiled all day in a large pot over an outdoor fire. Since I enjoyed the dish so much I decided to make my own version of a low country boil and it was delicious. Here are the directions for my dish as follows....
Ingredients: to serve 4
1 pound of shrimp
2 ears of fresh corn on the cob
8 small yukon gold or red skin potatoes
3 Chicken bullion cubes
2 tbsp Olive oil
1 tbsp old bay seasoning
salt and pepper
1. Begin by bringing six cups of water to a boil.
2. Wash potatoes thoroughly and cut in halves. Break ears of corn in half.
3. Once water is boiling stir in bullion cubes. When bullion has dissolved add potatoes and corn to boiling broth.
4. While vegetables are boiling preheat a large pan over medium heat. Toss shrimp in a bowl with 1 tbsp olive oil, salt and pepper to taste and 1 tbsp of old bay seasoning.
5. When pan is preheated add 2nd tbsp of olive oil and add shrimp. When shrimp starts to turn pink and curl flip over to other side. Cook approximately 2-3 minutes on each side.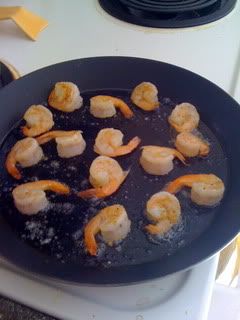 6. Once potatoes are tender and corn is fully cooked remove from broth.
7. Divide into four servings. In a bowl put 2 potatoes, 1/2 ear of corn and 1/4 pound of shrimp. Sprinkle each serving with a little extra old bay and spoon a bit of chicken broth over the top of the bowl.
8. Serve and enjoy.