I happen to be a huge fan of thrift stores and flea markets. I love finding fabulous old things and making them beautiful and new.
Tips for flea markets:
- A price is never final. Haggle, haggle, haggle. Decide how much you would be willing to pay for something before you look at the price and if they won't go low enough then don't buy it.
- Don't buy pieces that have major flaws, but easy small fixes might get you a better price on something you really want
- Be careful about touching. Remember antiques wear faster with the oils from our skin on them. These pieces are treasures to somebody and unless you are thinking about buying them keep your hands to yourself
Tips for thrifting:
- Many thrift stores do not have dressing rooms so wear tight fitting clothes that you can easily slip on clothing over. My suggestion is a pair of leggings, a camisole and a sweater or cardigan over that.
- Don't buy anything that is stained or ripped, unless you know the stain will come out or the tear is on a seam that is easily fixable.
- Find treasure in trash. Try and look at clothing and furniture as what they can be not what they are. A little creativity goes a long way.
The spoils from todays trip.....
Glass heads for my hats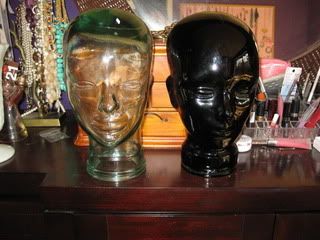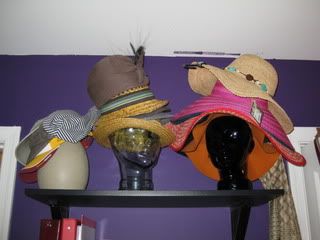 A next to new LV wallet just like the one i've been lusting after for two years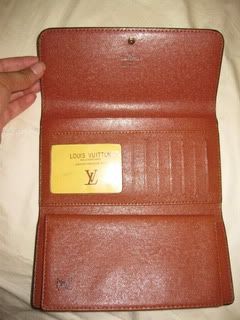 My next DIY project, soon to be a jewelry cabinet to hang on my wall