I was inspired to make crispy artichoke hearts by the appetizer I had at California Pizza Kitchen last night.
CPK's artichoke hearts

my dish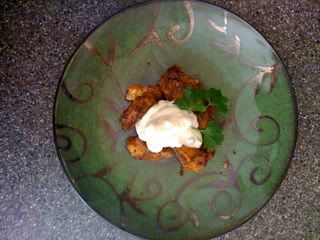 I used: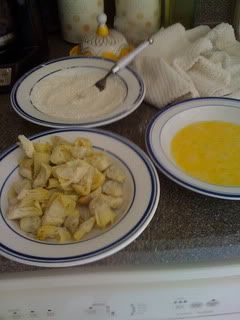 for artichokes-
1 can of quartered artichoke hearts packed in water
1 egg whisked in small bowl
1/2 cup flour
1/4 cup italian bread crumbs
1/4 cup light olive oil
1/4 cup vegetable oil
for remoulade-
1/4 cup mayonnaise
1 tsp dijon mustard
2 tsp fresh lemon juice
1 tbsp chopped capers
splash of tobassco
1 garlic clove, finely chopped
1) drain artichokes and dry with towel
2) milx oils and heat over medium-high heat
3) mix flour and italian bread crumbs
4) dip artichoke hearts in egg
5) let excess egg drip off of artichoke hearts, toss artichokes in flour and breadcrumb mixture
6) test oil with wooden spoon (dip the end of a wooden spoon in the oil, if the oil bubbles around the spoon the oil is ready), if oil is ready put 6-10 artichoke hearts into oil.
7) when bottom side of artichokes are golden brown turn over and cook other side (total cook time is approximately 3-4 minutes)
8) place artichoke hearts on paper towel to drain excess oil.
9) sprinkle with salt as soon as artichoke hearts come out of oil.
10) to make remoulade mix mayo, dijon, capers, tobasco, garlic and lemon juice. Dallop remoulade on top of artichoke hearts for a pretty presentation as seen above.