I have never made Mahi mahi before but my roommate bought a filet last time she went to the grocery store and I decided to give it a shot. It turned out in actuality to be quite delicious and the recipe I used was very simple. It was perfect with some red skin mashed potatoes and steamed asparagus
Ingredients:
1 pound mahi mahi fillet, skinned
2 tbsp vegetable oil
1 cup white wine
1 clove chopped garlic
salt and pepper to taste
juice of 1 lemon
1 tbsp butter
1) Heat a large skillet over medium heat until warm, add 2 tbsp oil
2) Put mahi mahi into skillet and turn once bottom side is browned (approximately 3 minutes)
3) Turn mahi mahi. Pour white wine, lemon juice, and garlic over fish
4) wait for wine to cook down by half. Add butter on top of fish and allow to cook until butter is completely melted
5) Sprinkle with salt and pepper
Potatoes:
6-8 medium red potatos
1 cup chicken broth
salt and pepper
1 tbsp garlic powder
1) cut potatoes into quarters. Boil potatoes in large pot of water until soft enough to mash easily with a fork. Drain potatoes in colander and transfer back to pot.
2) mash potatoes until relatively smooth and pour chicken stock into pot. Stir stock into potatoes. Add garlic powder and salt and pepper to taste.
3) Stir again and mash out small chunks with form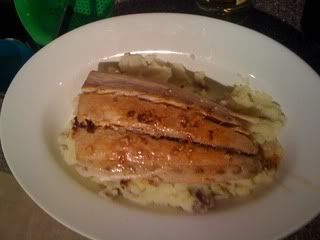 Easy peasy....and delicious