Great for entertaining or just a good meal at home, something a little more special than your everyday marinara lasagna. I would highly recommend this pesto lasagna. It was super easy to make and very tasty.
Ingredients:
15 oz part skim ricotta cheese
1/3 cup fresh basil, chopped
1/3 cup toasted pine nuts or pistachio nuts
1 cup store bought pesto sauce
8 lasagna noodles
mozzarella cheese
1. Mix ricotta, basil and nuts. Set aside in a bowl
2. Cook lasagna noodles to al dente (read instructions on box)
3. spray a 9 x 13 pan or casserole dish with non stick cooking spray
4. Coat the bottom of the pan with a thin layer of pesto
5. Lay noodles across bottom of the pan from side to side
6. Cover the top of the noodles in the ricotta mixture
7. Add another layer of pesto over the top of the ricotta mixture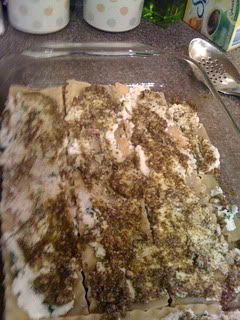 8. Layer more noodles across the top and repeat step 6 and 7
9. Sprinkle top of noodles with enough mozzarella to coat
10. Cook at 350 for approximately 30 minutes or until top is golden brown
11. Enjoy!